Books
Available at Amazon
Warden Force is a collection of award winning short stories spanning six titles, with more to come. Each story reveals the true adventures of California Fish and Game Wardens and the wildlife-destroying outlaws they pursue. These stories illustrate the wide variety of wildlife-related problems wardens face in California, which has a greater diversity of wildlife and wildlife habitat than any other state and is second only to Alaska in its vast expanses of wilderness.
Click on any of the covers below to get a live preview of each title!
Night Rider
(Warden Force Season 1)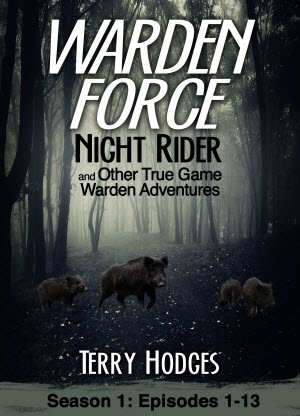 The Midnight Ride of Bonnie and Clyde: Wardens tangle with a murderous mother-and-son poaching team.
Night Rider: A California warden pursues highly dangerous night-poachers of wild pigs.
Decisions: Wardens off the coast of Southern California's Catalina Island risk their lives to save the crew of a sinking commercial squid-fishing boat.
A Second Second Chance: A California game warden ambushes outlaw catfish fishermen using baby swallows for bait.
The Collectors: California wardens take on a nest of Nazi-worshiping, weapons-collecting, deer poaching outlaws.
Nothin' Personal: California wardens track down a thief who steals the head and antlers of another hunter's buck.
Bottom Feeders: California wardens go after a band of White-trash, sturgeon-poaching, hillbillies with attitudes.
An Outing with Team Taylor: A California game warden and his family, on a short vacation, team up to capture antelope, bear and steelhead poachers.
Rookie: A rookie California game warden gets his first taste of his hazardous new career.
Grand Trickery: A California warden employs a magnificent bluff to catch outlaws night-poaching deer.
Tough Luck on the Little Sur: California wardens pursue gaunch-hook steelhead poachers.
Serial Poacher: Wardens pursue a disturbing and dangerous lone-wolf deer poacher.
The Vision: A boy's fondest dream comes true.
Grim Witness
(Warden Force Season 2)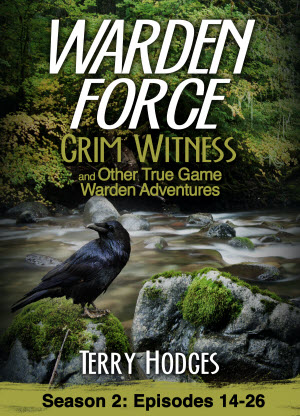 A Matter of Little Choice: Wardens hunt down an exceptionally large and highly dangerous wounded mountain lion.
The Meaning of Pursuit: Fleeing felons and a wild, white-knuckle ride for a reserve game warden.
Gambler's Luck: A big-rig load of alfalfa holds a surprise hidden in a chamber among the bales.
The Departure of Bully's Luck: A cruel bully gets what he deserves.
Pollard on the Rock: An alert clerk at a one-hour photo shop sends wardens in search of outlaw houndsmen.
Fools and Small Victories: A warden targets a particularly destructive brand of violator.
Renegades: Wardens target a destructive pair of elk poachers.
Bear Crazy: A warden investigates the poaching of an exceptionally huge bear, killed with a broad head arrow at a garbage dump.
A Message Delivered: Wardens hunt down antler thieves.
Sting: Wardens close in in a band of abalone poachers.
Cave Man: California wardens tangle with a wild-looking, hairy, commercial crab fisherman from Oregon.
Skinny Bob: California wardens go undercover to capture commercial reptile rustlers.
Grim Witness: Dangerous pot-growing poachers use pipe bombs to kill king salmon.
Delta Ghosts
(Warden Force Season 3)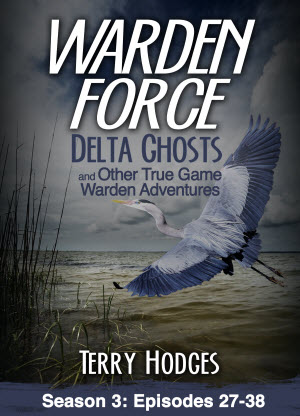 Delta Ghosts - A team of wardens ambush outlaw gillnetters at Grizzly Bay, in the same Delta waters patrolled 80 years earlier by Fish Patrol Warden and famous writer, Taylor London .
Smooth Operator - Wardens stalk a cagy and arrogant abalone-poaching commercial sea urchin diver.
Time Bomb - A dangerous and mentally unstable deer poacher proves highly troubling for pursuing wardens.
Cheaters - An inexperienced warden consults an old pro of his profession to capture a pair of super-wary striped bass snaggers.
Tigers Revenge - A cocky and confident salmon poacher makes the mistake of "pulling the tail of the tiger," that is, taunting a local game warden.
A Calculated Risk - Despite a comedy of errors, wardens close in on highly destructive pig poachers.
Killer John - Future serial killer? Wardens deal with a scary deer poacher and born killer.
New Talent - A new warden astounds a mentor with his almost super-human sensory skills.
Slow Learners - A once major league pitcher proves to be a highly interesting adversary for wardens.
Davie Crockett and the Bush Baby - A Hollywood stunt man and elk poacher tangles with border wardens.
Then Came Speedy - A Peruvian sheepherder and a small sheepdog pay dearly to save their sheep from marauding bears in high meadows of the Sierra Nevada range.
Lethal Intent - Would-be assassins are thwarted by a fearless warden who puts his life on the line for the intended victims.
Cold, Cold Hearts
(Warden Force Season 4)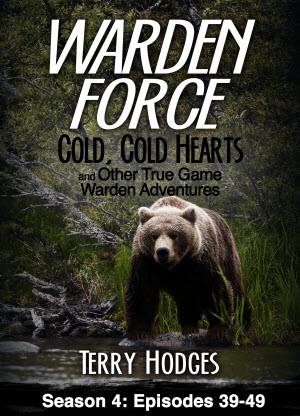 Trash Can Joe - Wardens pursue an infamous, outlaw hunting-guide who uses donuts to illegally bait bears. Meet "The Black Robinhood."
Callous Hearts - A rogue band of meth-cooking deer poachers meets with misfortune.
Rascal's Road to Justice - "The world's greatest duck caller," as a renowned waterfowl violator bills himself, crows that he's too smart to be caught. His education to the contrary soon follows.
True Remorse - One of the coldest of the cold, cold hearts, pays a heavy price for extreme cruelty to a trapped bear.
Turkeys - The wardens meet a hardened criminal whose hobbies are turkey hunting and home-invasion robberies.
A Weekend with "Starsky and Hutch." - A swashbuckling pair of wardens cram a fourth-story, roof-to-roof foot chase in old San Francisco and heroic rescues from burning buildings into a single, memorable weekend.
The Natural - A young woman proves that she was born to be a Fish and Game warden.
Dirty Harry and Ape Island - A warden thinks his way out of a jam in this story that features a good-humored Highway Patrol sergeant and an ill-humored monkey.
Lucky Breaks - A warden demonstrates his substantial tracking skills to put away an outlaw houndsman who traffics in bear gallbladders.
Lobster Jake - An infamous lobster pirate teams with "The Muppet," a character straight out of a nightmare.
Cold, Cold Hearts - A California warden, at great risk to himself, flies to Alaska to help state troopers there deal with a team of highly dangerous, cruel and destructive grizzly poachers.
Delta Ambush
(Warden Force Season 5)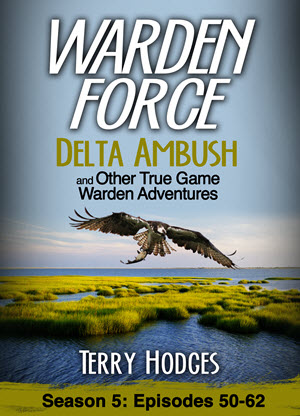 Uncatchable Chick Feathers - A clever deer-poaching archer, widely considered to be too smart to catch, meets an old-time game warden who disagrees.

Incident at Killer Cove - Armed killers on the run tangle with game wardens on the prowl.

Sooner or Later - An outlaw falconer outsmarts a new and inexperienced game warden. A year later, he's not so lucky.

Otter Killers and Uncommon Luck - Wardens pursue sea-otter-killing commercial abalone divers.

Leo's Demise - One man dies before wardens deal with an African lion, a grown pet gone rogue, in the suburbs of Los Angeles.

Tough Customers - A game warden and a hostage-taking armed robber nearly destroy a drugstore.

Bug Pirates - Trap-raiding lobster thieves meet with misfortune.

Setliners - Wardens target long-line catfish poachers.

A Matter of Preference - Wardens attempting to ambush season-jumping commercial lobster fishermen get a big surprise.

Delta Ambush - Night-prowling, canoe-borne wardens stalk a wily and destructive Delta outlaw.

Rake Man - A well disguised warden outsmarts lawless abalone pickers.

The Honest to God Truth - An honest mistake and a white-knuckle, midnight vehicle tail through Long Beach yields a surprise and an important arrest.

Raid of the Stockton Airborne - Did they or didn't they? Wardens from the sky? A day for mass-killing duck poachers does not end well.
Ordeal at Skull Canyon
(Warden Force Season 6)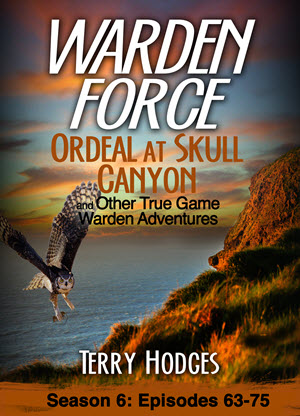 Scum of the Delta - A lone warden faces three armed and dangerous outlaws at night on a lonely Delta island.

Night of the Beach Walkers - Wardens set a trap for renegade abalone pickers on an Island off the California coast.

The High Cost of Greed - A massive overlimit of snow geese equals bad news for greedy poachers.

The Best Medicine - A young boy provides a cure for racial tension.

Ordeal at Skull Canyon - A dark night and a mistake on an offshore island nearly proves fatal for a young warden.

Hoffman's Lucky Shot - A lucky break spares the evil life of a dangerous poacher.

Moseley's Reward - A well timed tip sets wardens on the trail of outlaw mountain lion trappers.

Herpie and the Snake Lady - Wardens raid an absolute house of horrors and target lawless reptile dealers.

Road Hunter - A road-hunting pheasant poacher leads a clever warden to pull off the most spectacular arrest of his career.

Harold's Toughest Race - A tough, marathon-running warden amazes everyone by running down an escaping would-be rapist.

Fatal Flaw - One dark mountain night, a lone warden, at great personal risk, bluffs a lawless band of brush-cutters to arrest a deer poacher and a wanted felon.

Tuffy's Sweet Moment - An epic foot chase ends in near death for a fleeing violator.

An Ending of Sorts - A warden-turned-writer, one winter's evening, reflects on his career and that of his long-dead mentor
Deadly Intent
(Warden Force Season 7)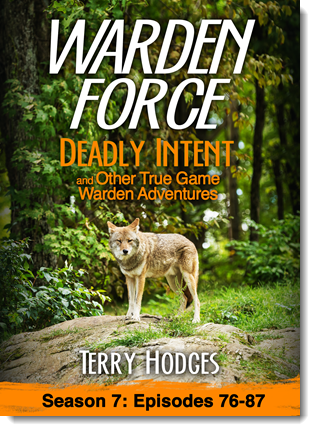 Skin-Head Fred - Wardens tangle with a murderous, meth-cooking, game-killing, Neo Nazi.
Spreaders - Wardens target a highly intelligent, super-wary commercial lobster pirate.
Deadly Intent - An alert warden stays alive and saves a life.
The Poor Eyesight Of Love - The arrest of a man and wife poaching team reminds wardens that love can indeed be blind.
Ruthless - Crossbow-wielding, night-hunting outlaws face sly wardens who never give up.
Ghost Of The Feather - Salmon poachers on the Feather River mix it up with an old pro warden.
Abalone Boy - An abalone-poaching commercial sea urchin diver earns his way into state prison.
Anything But Cheap - A tough young warden targets ruthless, bear-killing houndsmen.
Knock-And-Talks - A highly experienced, slick-talking warden outsmarts goose and deer poachers.
Woody Peckerwood - A dumb crook story in which the dumb crook steals the wrong man's boots.
Kegger - Wardens break up a midnight keg party, and a gutsy college student becomes an instant legend.
The Troubling Case Of Walter Sumpter - A highly troubled teenager commits a terrifying crime with ominous implications.